Welcome to Coal Creek Clay
Coal Creek Clay incorporated in 2005 as a Mother / Daughter team playing in clay, having fun, and creating pottery for people to enjoy. Our pottery include functional and decorative items from cheese crocks to flower frogs for your garden flowers to horse hair pottery.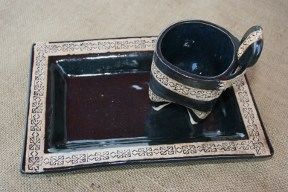 Nothing is safe from being used in our work as a cool texture. One of our favorite textures we press in our pottery is a piece of lace from a family member's wedding dress (the left over lace of course). But we use anything from edges of glass votive holders to an old fashioned three prong ice pick.
Our most recent addition to our work is the Horse Hair Pottery.
This unique application begins with a piece of clay, once dry, it is glazed and burnished. Then each piece is fired up to 1800 degrees. Once it is removed from the kiln,
horse hair is burnt into it using a blow torch. We make several items with this application including jewelry, coasters, wine stoppers, napkin rings, decorative wall plates and vases with dried weeds.




We generally do about 2 art fairs a month in the Indiana/Illinois area. Please check out our calendar on the "Where to find us" page and come see us at a show. You will find a larger selection of our pottery and ceramic jewelry.