All items listed on this page are one-of-a-kind and are available for order. Please contact us at
info@coalcreekclay.com
to purchase one of these pieces. We accept cash, check, MasterCard and Visa.

Cheese Crock with Spreader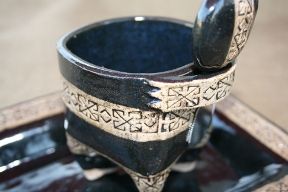 Black and Tan colored cheese crock and
spreader cheese

approx 4"h x 3" w

$26.00

Cheese Crock and Square Plate

Turquoise colored cheese crock and
spreader with a square plate.
Plate measures 8" square and the
cheese crock is approx 4"h x 3" w

$44.00

Flower Frog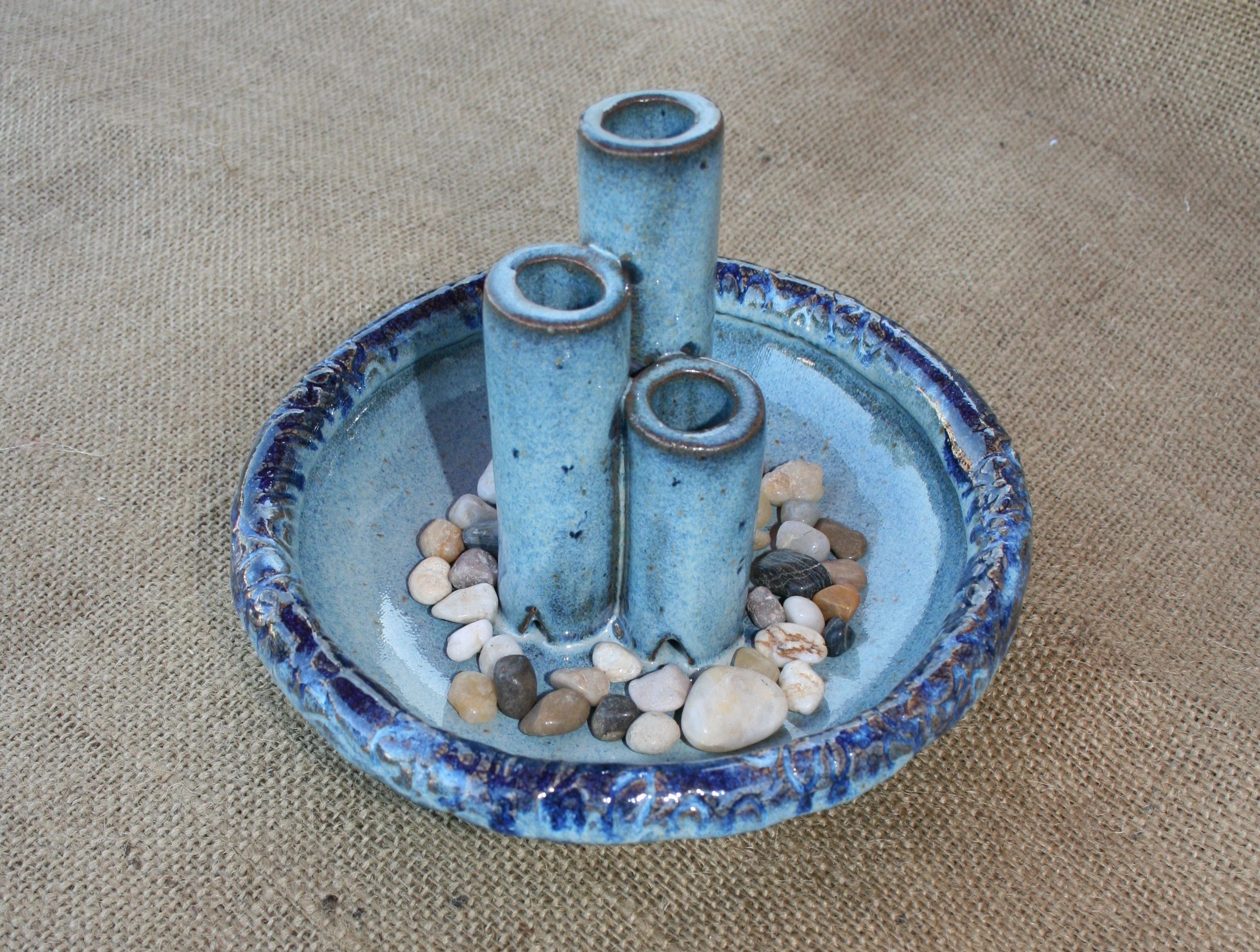 Blue Flower Frog with dark blue edges. Three varied sized tubes are grouped in the center to hold your fresh flower. Small hoes are in the base of the tubes to allow water to enter the tubes to keep your flowers fresh.
River rocks are included.

$38.00
Horse Hair Coaster Set


Horse Hair Coaster Set has horse hair
that is burned into the clay which
gives it the black/brown marble look.
These coasters are porous so they
do absorb condensation from your glass.

$29.00
Small Square Dish


Small Square Dish, Blue-like glaze with
a pattern rolled into the clay.
6 1/2" W x 1 1/4" D
$29.00
Coffee Mug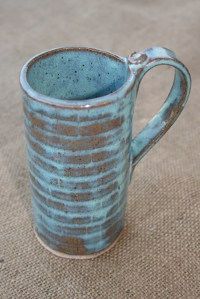 Coffee Mug in a Turquoise-like glaze with
a pattern rolled into the glaze

51/2" H x 2 3/4" W


$20.00

Coffee Mug

Coffee Mug in a Blue-like glaze and
lace pattern in the clay
51/2" H x 2 3/4" W
$20.00









Oval Horse Hair Platter w/tube


Horse Hair Oval Platter w/Tube with dried flowers
has horse hair that is burned into the clay which
gives it the black/brown marble look. It has a bracket on the back for easy wall hanging.

12" H x 3 1/2" W x 1 1/8" D
$35.00
Rectangle Platter


Rectangle Platter, Blue-like glaze with
a pattern rolled into the clay.

13 1/2" L x 7 1/2" W


$30.00






Horse Hair Necklace
Horse Hair Necklace has horse hair that is burned into the clay which gives it the black/brown marble look.

approx. 18"

$29.00